COMPANY PROFILE
NAVAL ENGINEERING & GREEN TECHNOLOGIES SRL was created in February 2020 and is an Engineering Company dedicated to the design in the naval sector of new systems to be installed as a result of the evolution of standards and in particular of MARPOL and / or retrofitting of on-board systems for those who intend to apply "Green" and innovative technologies in order to reduce the environmental impact of ships and sea transport through the reduction of emissions in water, air, ports and land.
The company makes use of the knowledge and experience accumulated by its founder who worked for more than 25 years in the maritime sector, first in the management of a large shipping company and later in the construction, repair, maintenance and modification sector both as Deputy Chairman with responsibility for Maintenance and Repair and as Chief Executive Officer and General Manager.
Although young, the Company takes advantage of the experience of its employees in the field of technological innovation in the maritime transport sector, in intermodal transport and in the development of the Blue Economy especially for a country like Italy which has about 8000 kilometers of coastline and 'application of technologies compatible with the environment and above all with the sea.
Furthermore, the Company also takes advantage of the many years of experience of its partners in the research and development sector to propose innovative projects with low environmental impact ranging from regional to national and European projects and above all to actions related to TEN-T projects to support ambitions to reduce the emissions of the shipping industry before the limits imposed by the sector organizations themselves. The Company is also engaged in research and development projects, including internally funded or making use of EU funding projects and programs.
The company makes use of new technologies in the development of its projects such as 3D laser scanning, in fact it has equipped itself with a FARO FARO FARO Focus S 350 laser scanner in order to better integrate the changes in the original contexts and push the prefabrication to the maximum possible and reduce the timing of implementation of the same changes. It also makes use of virtual technologies such as Augmented Reality (AR) remote connection devices to perform remote inspections and surveys in order to support its customers in solving problems and recovering efficiency to reduce related CO2 emissions. to maritime transport.
The company also carries out Technical Service Station activities for builders of various Naval Plants and precisely for:
Impianti Ballast Water Treatment System OCEAN GUARD della Headway Technology Group (Qingdao) Co.;
Technical Station per impianti propulsivi e di manovra della KAWASAKI (in Corso);
Service Station per Torsiometri e Misuratori di Portata Massici (Kyma & Krone);
Rappresentante Sistemi di Protezione Catodica EMCS;
Consulente SIRM ITALIA Srl per le Comunicazioni Radio Marittime e per la Navigazione;
Consulente SIRM MALTA Ltd e Gestore della attività di Service su Malta;
Certifications
for compliance with the established requirements
by international norms and standards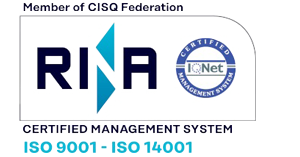 The Certificate of Conformity N.42643 / 22 / S dated 29/04/2022 which certifies compliance with the ISO 9001: 2015 standard of the Management System;
IQNet Registration N.IT-140901, certifying that the Management System of your Organization has been certified by an IQNet member body;
The Certificate of Conformity N.EMS-9033 / S dated 27/04/2022 which certifies compliance with the ISO 14001: 2015 standard of the Management System;
IQNet Registration N.IT-140887, certifying that the Management System of your Organization has been certified by an IQNet member body;